Get link

Facebook

Twitter

Pinterest

Email

Other Apps
This article is part of The 2020 Classic Literature on Film Blogathon hosted by Silver Screen Classics. Click on the highlighted text to read more about literary movie adaptations.
The photo above shows Greer Garson as Elizabeth Bennet and Laurence Olivier as Mr. Darcy in Pride and Prejudice (1940).
There's nothing more comforting in difficult times than a good book and/or a good movie. As a lifelong Jane Austen fan, I've been reading Emma during the coronavirus pandemic, but I've also been watching movie adaptations of her novels, including MGM's 1940 adaptation Pride and Prejudice. This film isn't the most faithful screen adaptation of Austen's best-known novel, but it is a sparkling adaptation nonetheless featuring a witty script, MGM's luxe production values, and peerless performances from some of old Hollywood's top talents.
As all Austen aficionados know, Pride and Prejudice tells the story of Elizabeth Bennet (Greer Garson), the second child in a family of five daughters, who lives in the quiet English village of Meryton during the 19th century. Elizabeth's mother (Mary Boland) wants her to marry the pompous librarian Mr. Collins* (Melville Cooper) in order to keep the Bennet estate intact, but she prefers the attentions of handsome soldier George Wickham (Edward Ashley Cooper). Elizabeth has also caught the eye of the wealthy Mr. Darcy, but his sometimes tactless, arrogant behavior leads the determined young woman to spurn him.
*
The Motion Picture Production Code required that clergy be portrayed in a positive light, so Mr. Collins' profession was changed from vicar to librarian.
MGM producer Irving Thalberg bought the rights to a popular stage version of Pride and Prejudice in 1936. He planned to make a lavish film version starring his wife, Norma Shearer and a (really, really miscast) Clark Gable, but those plans fell through when Thalberg unexpectedly died in September 1936. The project then went through several iterations -- Shearer remained in the running, but Vivien Leigh, Robert Donat, and Robert Taylor were all considered for the lead roles at one time or another. Eventually, studio chief Louis B. Mayer settled on newly minted matinee idol Olivier as Mr. Darcy and the up-and-coming Greer Garson as Elizabeth (Garson had just made a favorable impression on audiences and critics with a stellar supporting turn in the 1939 weepie Goodbye, Mr. Chips).
Pride and Prejudice was a box-office hit in 1940, and it still makes delightful viewing 80 years later. You can catch it on DVD and video-on-demand. July 2020 update: Pride and Prejudice is now available in Blu-ray from Warner Archive. Here's three reasons to watch.
1. The Script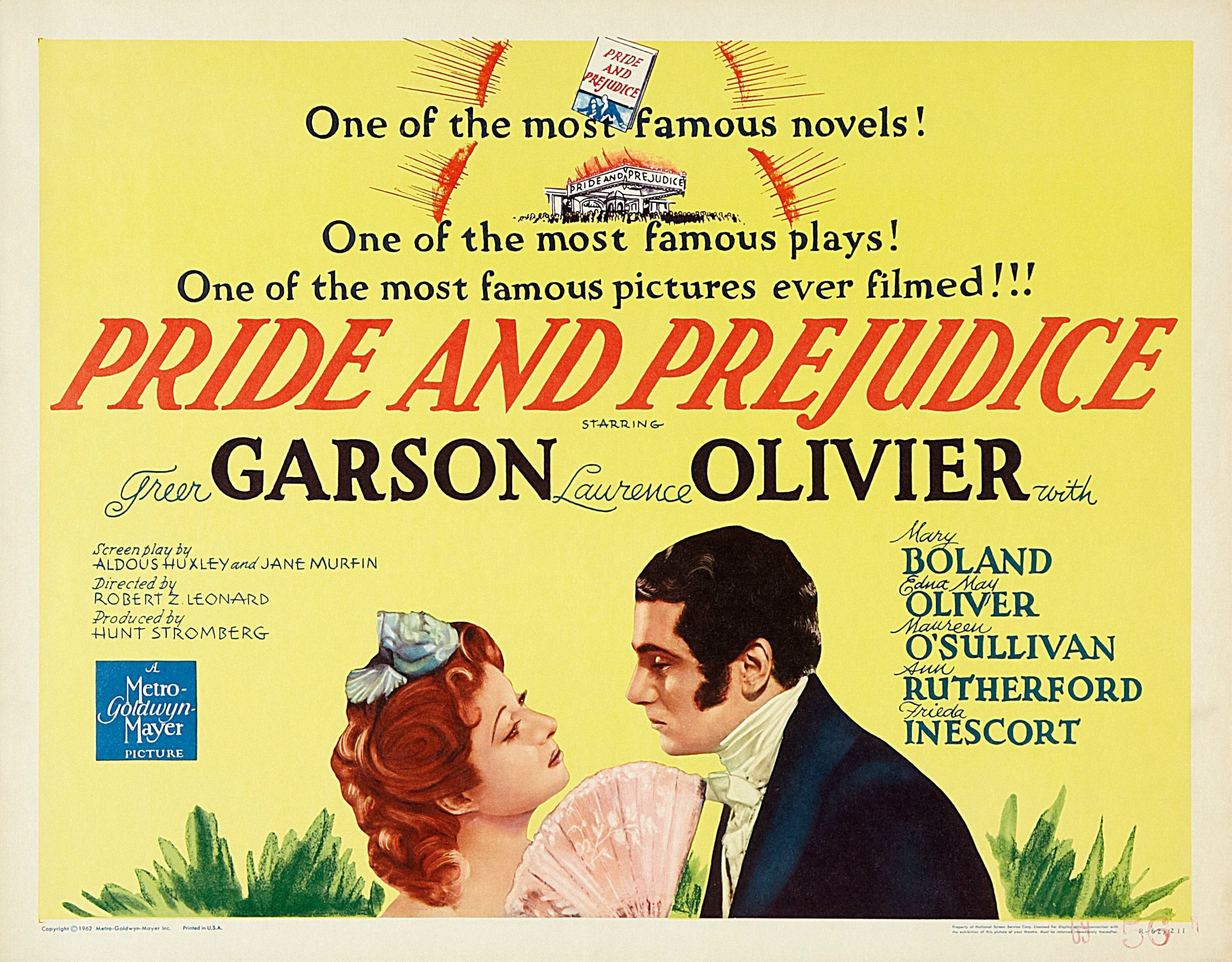 The 1940 version of Pride and Prejudice was made about 50 years before a craze for all things Austen swept Hollywood, but this film's literate and witty script by Aldous Huxley and Jane Murfin (it was based on a play by Helen Jerome) set the template for many later adaptations.
Huxley and Murfin do an excellent job of transferring Austen's witty dialogue and her penchant for strong supporting characters to the big screen (Edmund Gwenn as the gentle Mr. Bennet and Edna May Oliver as the imperious Lady Catherine de Bourgh are standouts). There are also set pieces such as country balls and archery tournaments that show up frequently in Austen adaptations.
2. Sir Larry as Darcy
Laurence Olivier makes a phone call on the set of Pride and Prejudice (1940).
By all accounts, Olivier
hated
playing Darcy -- he and Garson reportedly didn't get along and he disliked the character, describing Darcy as an "unattractive-looking prig" in his autobiography. Despite that, Olivier turns in a sensitive, nuanced performance as English literature's most swoon-worthy brooding hero. Olivier's Darcy isn't a haughty snob, but rather a shy, somewhat awkward man who doesn't really know how to approach the confident, outspoken Elizabeth.
On a more shallow note, Larry is 😍 in his period costumes (as you can see from the photo above).
3. The Best Mary Ever
The Bennet sisters in Pride and Prejudice (1940). Clockwise from lower left, Ann Rutherford as Lydia; Marsha Hunt as Mary; Heather Angel as Kitty; Maureen O'Sullivan as Jane, and Greer Garson as Elizabeth.
Pride and Prejudice gives a surprising amount of its roughly 2-hour screen time to the various Bennet sisters. The focus of the story remains on Elizabeth, but Jane's romance with Mr. Bingley (Bruce Lester) and even Kitty's comic coughing spells are given a fair amount of screen time.
However, my favorite Bennet sister is Mary, who is portrayed by Marsha Hunt in a great character performance. Hunt not only captures Mary's foibles such as her tendency to squint and her off-key musical performances, but also her good qualities, like her love of books.
You can watch Hunt's hilarious rendition of "Flow Gently, Sweet Afton"
here
. The song starts at 1:05 minutes.
Here's the trailer:
Thank you for reading and thanks to Paul for hosting! Enjoy a good book and/or a good movie this week. I'll leave you with MGM legend Nelson Eddy's soothing rendition of "Flow Gently, Sweet Afton" as a palate cleanser (you probably have a little time on your hands anyway 😉)
Get link

Facebook

Twitter

Pinterest

Email

Other Apps