Get link

Facebook

Twitter

Pinterest

Email

Other Apps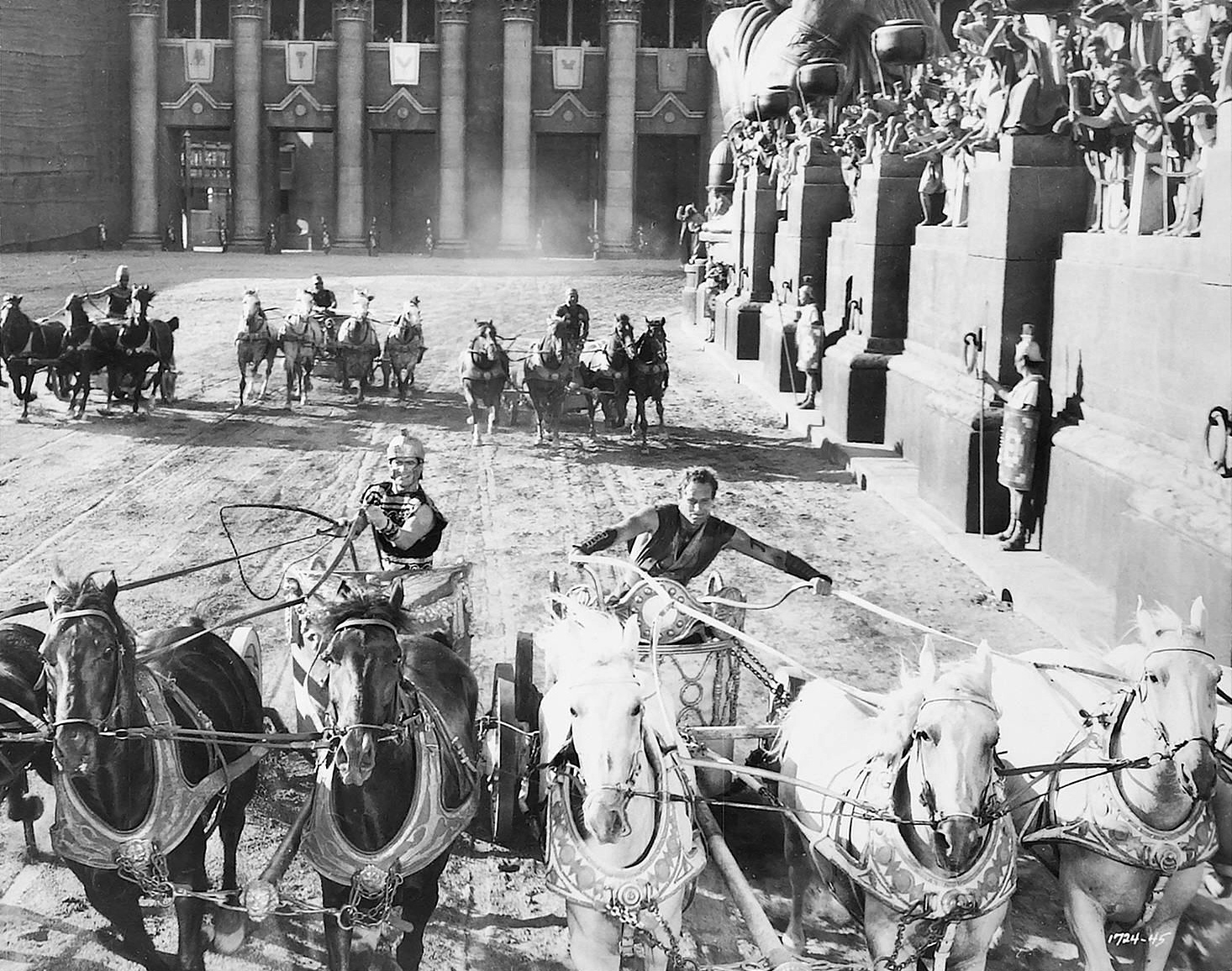 This article is part of The Anniversary Blogathon from the members of the Classic Movie Blog Association. Click here for more great articles about movie milestones. The photo above shows Stephen Boyd and Charlton Heston in the famous chariot race scene from Ben-Hur (1959).
The 1959 version of Ben-Hur is celebrating its 60th anniversary this year. One of old Hollywood's best remembered films, this ancient epic set during the life of Christ has a lot to recommend it, including great performances, lavish sets and costumes, and fabulous set pieces like a spectacular sea battle.
However, Ben-Hur's real piece-de-resistance is the famous chariot scene, a roughly 11-minute sequence that can still thrill movie fans 60 years after the film's release. In this article, I'll detail what makes the chariot race so special, but first here's some background.
Ben-Hur tells the story of Jewish aristocrat Judah Ben-Hur (Charlton Heston), who lives in luxury in first-century Jerusalem with his mother (Martha Scott) and his sister (Cathy O'Donnell). Judah's childhood friend Messala (Stephen Boyd) comes back to command the Roman garrison in the city and Messala hopes to secure Judah's assistance in quelling the many rebellions in Palestine; however, when Judah refuses, Messala eventually has him jailed on trumped up charges. After a period of time serving as a galley slave in Roman war ships and as a charioteer in Rome, Judah returns to Jerusalem to challenge Messala to a chariot race.
Ben-Hur, which is based on an 1880 novel by Christian writer Lew Wallace, had already been filmed once by MGM in 1925 to critical plaudits and a box-office bonanza (you can watch that film's chariot race scene
here
). Studio chiefs had toyed with remaking the movie for years; in fact, a sound version starring Marlon Brando made it into pre-production before MGM dropped the idea in 1956. After Paramount Pictures' The Ten Commandments lit up the box office, the studio decided to revisit the idea, this time with Heston, who had starred in The Ten Commandments, in the lead. MGM's gamble paid off when Ben-Hur became the second-highest grossing movie in old Hollywood history -- it was surpassed only by Gone With the Wind (1939) -- and won 11 Academy Awards, including best picture, best director for William Wyler, and best actor for Heston.
You can watch Ben-Hur at 4 pm ET Aug. 30 on TCM or catch it on Blu-ray, DVD, or video on demand. Ben-Hur's opening scene of Christ's birth makes it an excellent Christmas movie, but there's also plenty of spectacle, especially during the chariot race scene. Here's five reasons why it's so great:
The Build-Up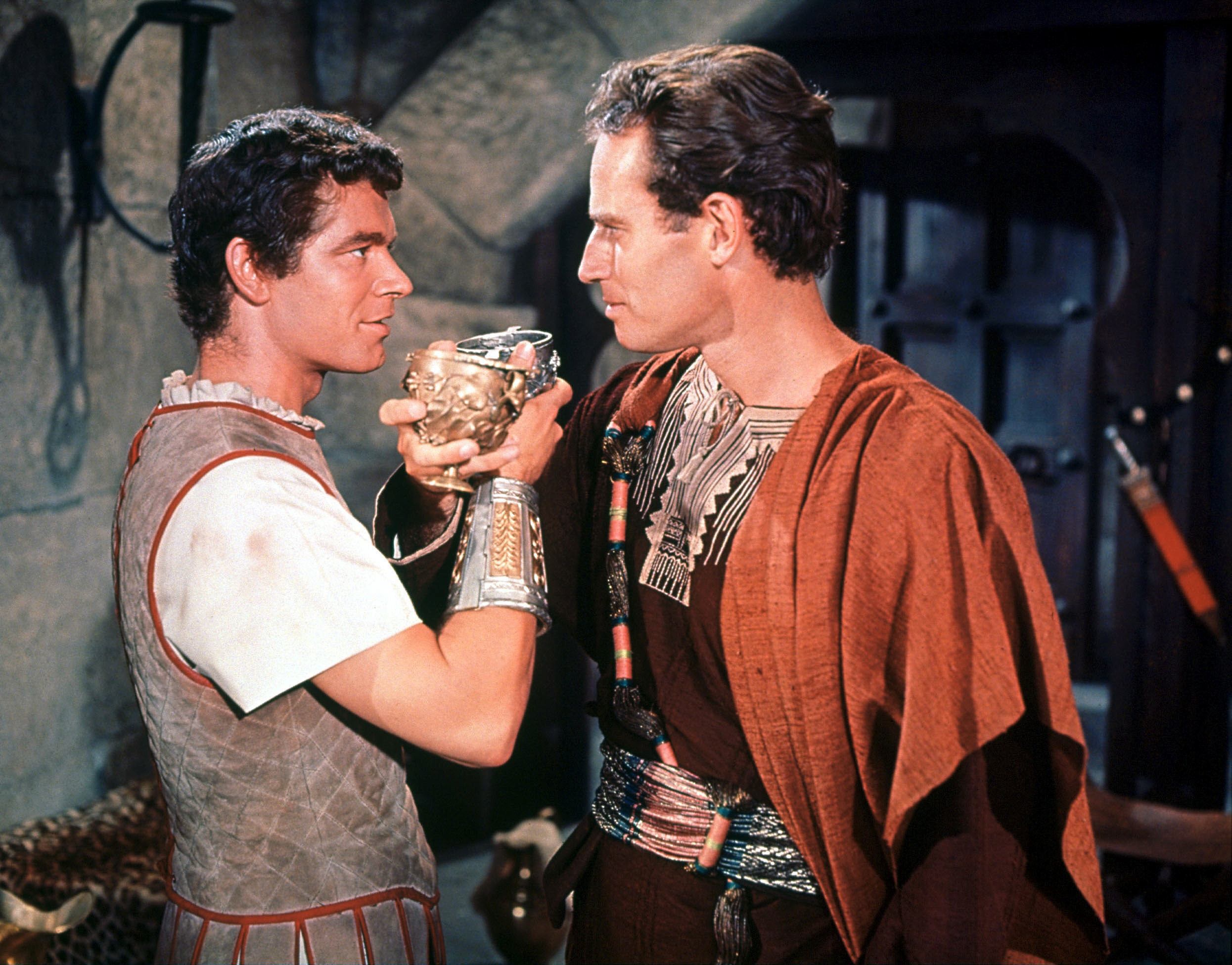 Stephen Boyd and Charlton Heston in a scene from Ben-Hur (1959).
Wyler, who directed classics like Mrs. Miniver (1942), The Best Years of Our Lives (1946), and The Heiress (1949), was a master of making the intimate epic. He has the opposite task in Ben-Hur, which he pulls off with aplomb. Wyler carefully lays the groundwork for the complex friendship/rivalry between Judah and Messala in the first half of film. It all culminates with the climactic chariot race that opens the second half of the film.
The Set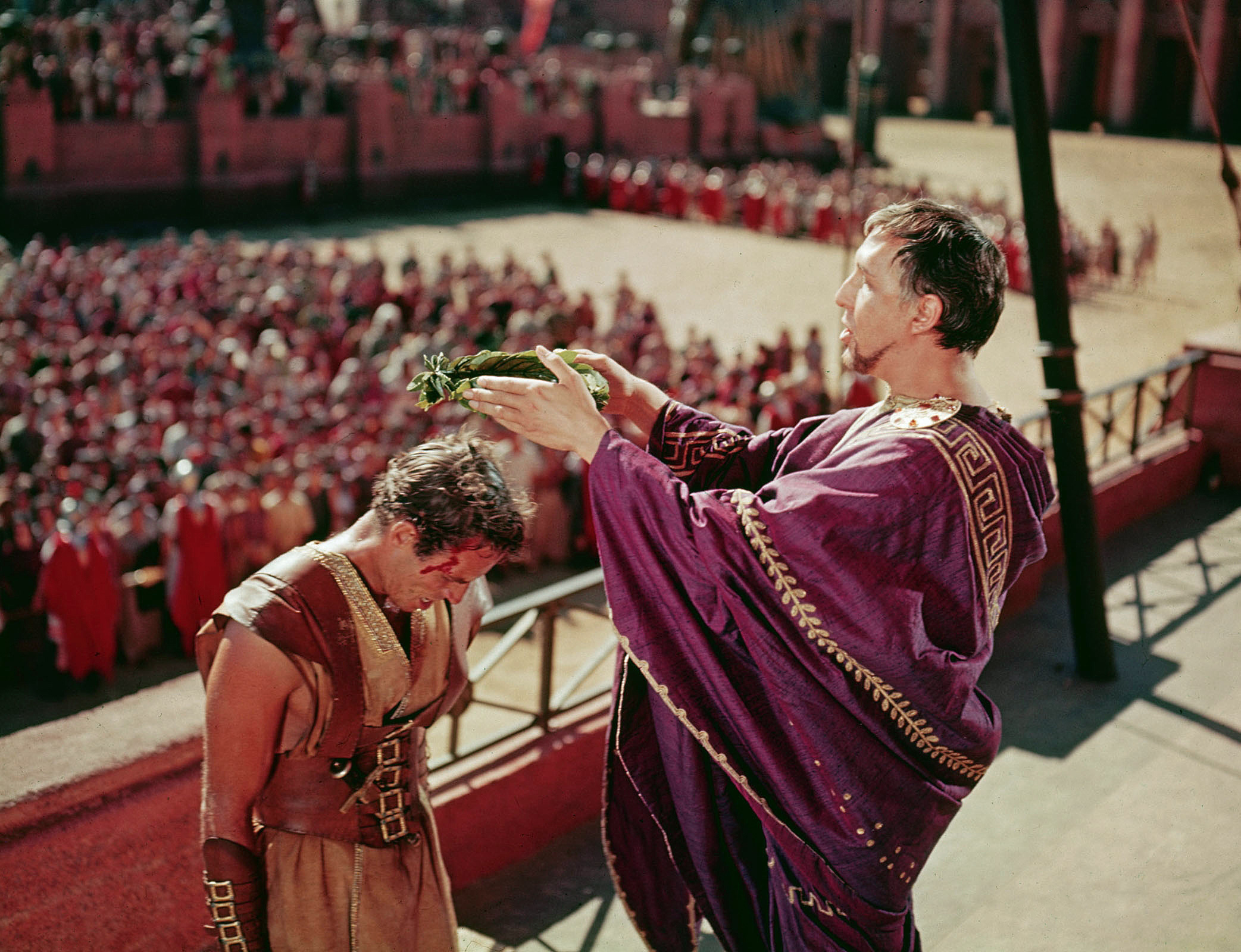 Charlton Heston and Frank Thring in a scene from Ben-Hur (1959)
MGM lavished $1 million alone on recreating the famous Jerusalem circus in lavish and historically accurate detail on an 18-acre set outside of Rome. The set, which included a center oval that was carved out of a huge stone by 1,000 Italian craftsmen and 40,000 tons of sand trucked in from the Mediterranean, makes for breathtaking viewing. Wyler properly shows off the spectacular set in a stunning opening sequence that shows the horses walking around the track in perfect unison (this scene is also greatly aided by Miklos Rozsa's evocative score, which was based on ancient Roman melodies).
Messala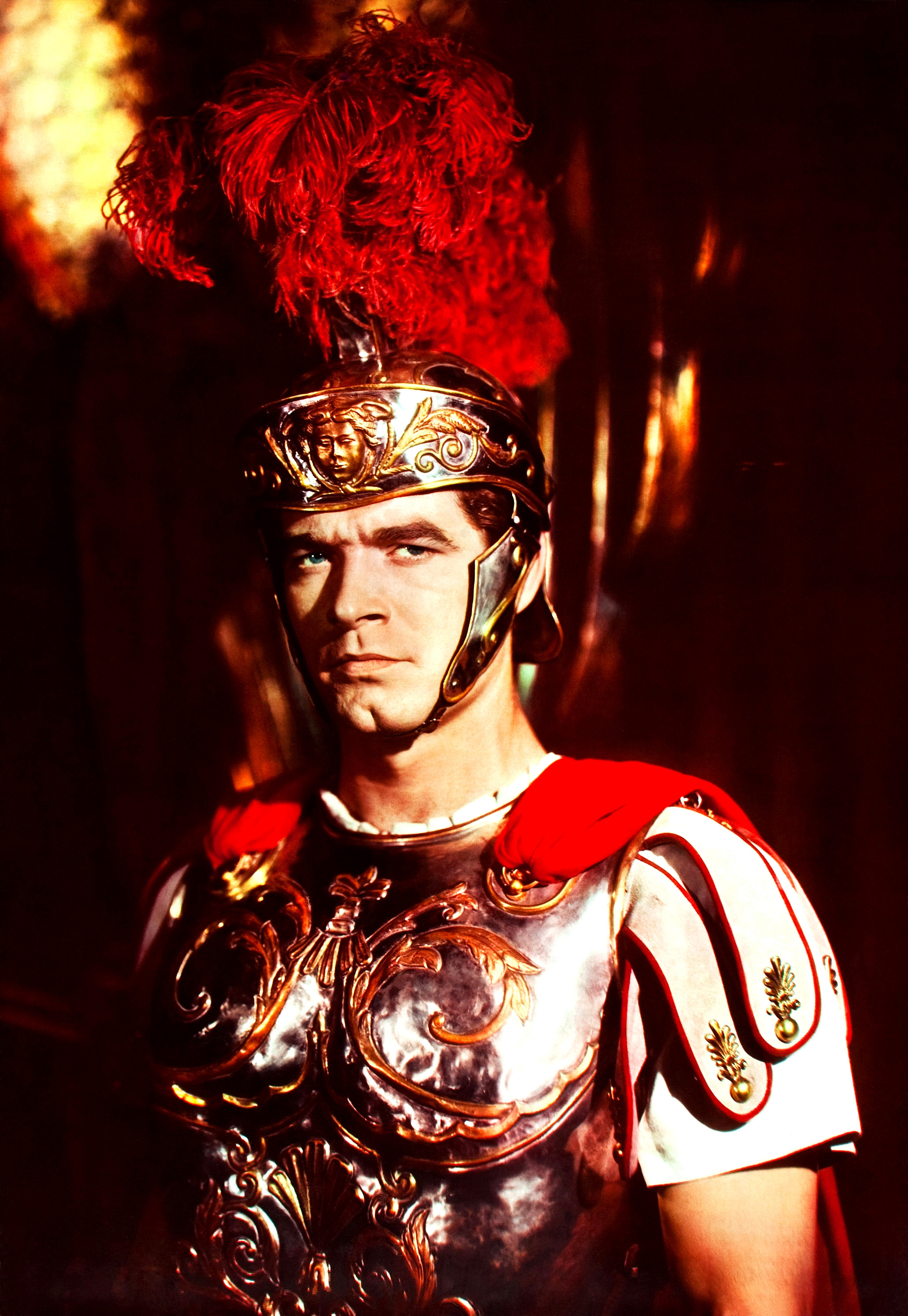 Stephen Boyd as Messala
Every good old Hollywood movie needs a great villain, and Ben-Hur certainly has that in Boyd's mercurial, charismatic portrayal of the Roman commander. Messala is both understandably human (who hasn't wanted to get ahead in their career at some point) and deeply weird (his tendency to indulge in sinister giggling), and his death scene is probably the best piece of acting in the film. It's a shame that Boyd didn't win the best supporting actor Oscar for Ben-Hur -- shockingly, he wasn't even nominated-- but the honor went to his costar Hugh Griffith for his gaudy performance as Sheik Ilderim.
The Race
It took about five weeks for second-unit director Andrew Marton and legendary stuntman Yakima Canutt to film the chariot race. They used 76 Andalusian and Lipizzan horses that were trained for about three months to pull the heavy chariots. Most of what you are seeing on screen is stunt doubles, but both Boyd and Heston learned how to drive the chariots, and they pulled off some pretty impressive stunts of their own, including Heston clambering over a chariot and Boyd being dragged by a team of horses. BTW, there's a persistent urban legend that a stunt person died during filming, but that's not true. All of those people you see being trampled are very lifelike dummies.
Lots and Lots of Cheering
The thrill of victory and the agony of defeat is made even more exciting by the reaction shots of the actors and 1,000 rowdy extras who crowded into the stands (like true sports fans of any era, they run out onto the track at the end of the race). The excellent character actor Frank Thring goes from indifference to disgust as Roman governor Pontius Pilate, but the undisputed king of sportsfaces (as they call it on the Internet these days) is Griffith whose priceless reaction shots range from manic shouting (GIF above) to wild jubilation.
Happy 10th anniversary to the CMBA! Here's to many more! We all love a happy ending, so I'll leave you with this fun photo of a grinning Heston and Boyd riding around the set of Ben-Hur on a different kind of chariot (someone on Twitter said this was the rom-com version of Ben-Hur).
Get link

Facebook

Twitter

Pinterest

Email

Other Apps