Get link

Facebook

Twitter

Pinterest

Email

Other Apps
It's a great week for film noir on TCM. The Thursday night lineup of journalism-themed films has lots of great noir, including Sweet Smell of Success (photo above with stars Tony Curtis and Burt Lancaster. My other picks include a classic screwball from star-of-the-month Fredric March on Tuesday and a double bill from Irish-American director John Ford on Sunday. Note: All times are ET and the highlighted text has links to full-length articles.
Here's a
link
to the complete schedule for March 11-March 17.
Performance of the Week (Monday Daytime)
Charles Laughton as Quasimodo in The Hunchback of Notre Dame (1939)
The Hunchback of Notre Dame (1939) at 4 pm Monday, March 11:
Lon Chaney in the 1923 silent film was a hard act to follow, but
Charles Laughton
gives an equally great performance as the bell ringer Quasimodo in the 1939 adaptation of Victor Hugo's novel, Notre Dame de Paris. Like all great actors, Laughton used his own insecurities to create a touching portrait of a man who is ostracized by society because of his appearance. Part of a daytime lineup of films based on French literature. (you can watch Academy Award-winning director Guillermo del Toro's tribute to the film and Laughton's performance
here
).
Fred Without Ginger (Monday prime time and late night)
Cyd Charisse and Fred Astaire in The Band Wagon (1952)
Fred Astaire
and
Ginger Rogers
are movie-musical perfection, but the actor and dancer also had many other great partners through the years. Monday night's lineup celebrates those women starting with the graceful
Rita Hayworth
in
You Were Never Lovelier
(1942) at 8 pm. Also, don't miss Fred and
Cyd Charisse
's scorching rendition of "The Girl Hunt Ballet" in
The Band Wagon
at 10 pm and Astaire and
Eleanor Powell
practically tap-dancing through the floor in "Begin the Beguine" in
The Broadway Melody of 1940
at midnight.
Photo of the Week (Tuesday daytime)
The Maltese Falcon (1941) at 2 pm Tuesday, March 12:
Director
John Huston
gives pointers to
Peter Lorre
and
Humphrey Bogart
on the set of this seminal film noir. Part of a daytime lineup of detective stories.
Screwball of the Week (Tuesday prime time)
Fredric March and Carole Lombard in Nothing Sacred (1937)
Nothing Sacred (1937) at 10 pm Tuesday, March 12:
Star-of-the-Month
Fredric March
plays a NYC newspaperman who gets taken in by small-town grifter
Carole Lombard
in this Technicolor screwball from director
William Wellman
. March mostly has to play straight opposite a hilarious Lombard (and an even more hilarious
Charles Winninger
) but he does get to show off his comedy chops in the famous fight scene.
Garbo Alert (Tuesday late night)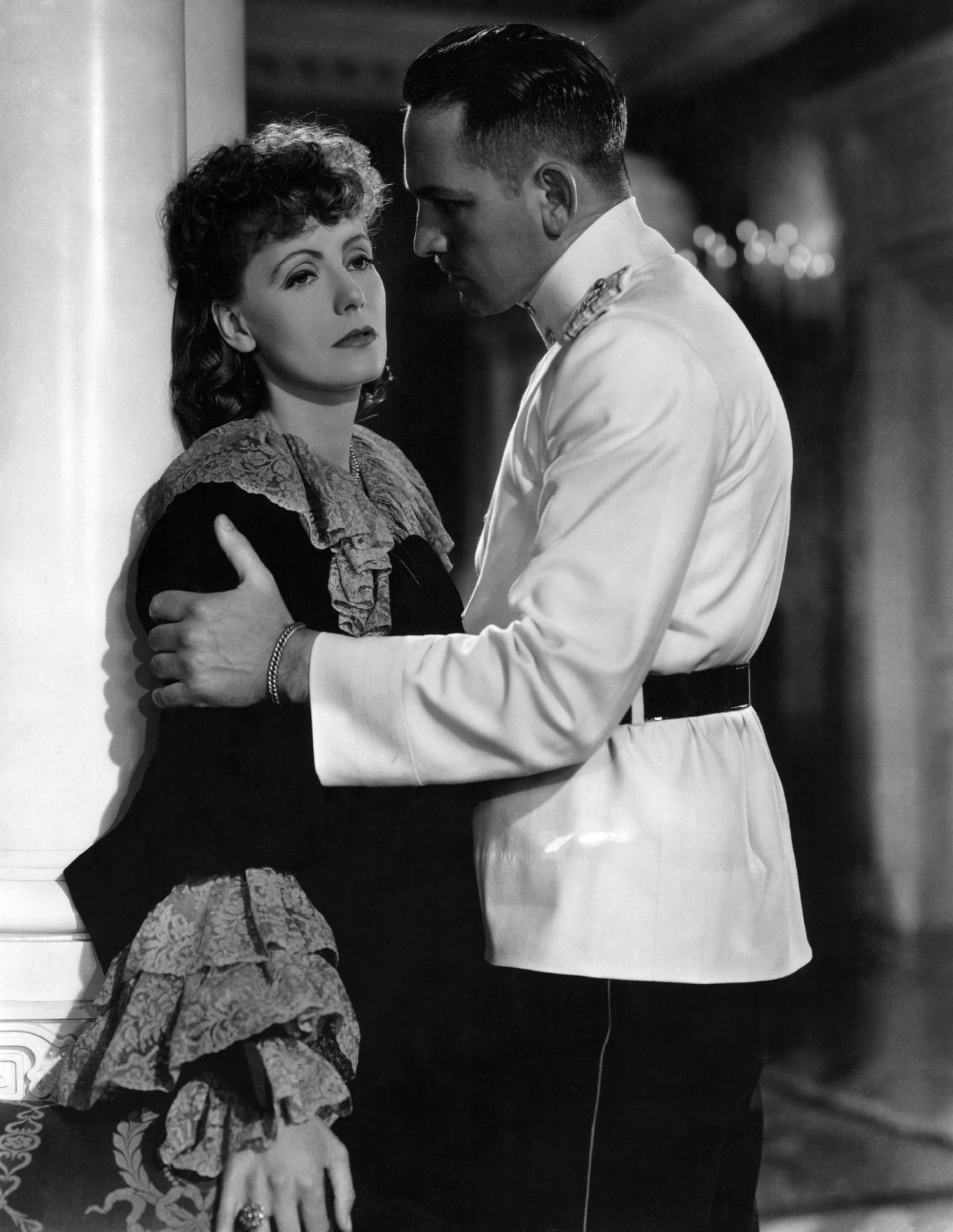 Greta Garbo and Fredric March in Anna Karenina (1935)
Anna Karenina (1935) at 1:30 am Tuesday, March 12: Greta Garbo is magnificent as Tolstoy's tragic heroine in this lavish costume drama that costars Fredric March as Anna's lover, Count Vronsky.
Two from Flynn (Wednesday daytime)
Olivia de Havilland and Errol Flynn in The Charge of the Light Brigade (1936)
TCM's afternoon lineup of
Errol Flynn
films brings the rousing action-adventure film
The Charge of the Light Brigade
(1936) at 1:45 pm Wednesday (this is Flynn's second film with frequent leading lady
Olivia de Havilland
) and the fun World War II thriller
Desperate Journey
(1942) at 6 pm. This film finds Flynn as the leader of flight crew that includes
Alan Hale
and
Ronald Reagan
who are shot down in Nazi Germany.
Wednesday Pick of the Day
The Bitter Tea of General Yen (1933) at 8 pm Wednesday, March 13: This movie about an American missionary (Barbara Stanwyck) who falls in love with a Chinese warlord (Nils Asther) is probably the most unusual film in both Stanwyck and director Frank Capra's career. It was a huge flop at the time, partially because more conservative audiences disapproved of the frank depiction of the love affair between Stanwyck and Asher's characters, but it has gained a more appreciative audience in recent years with write-ups in prominent film journals.
More missionaries:
I'm looking forward to seeing the James Michener saga
Hawaii
(1966) at 9:45 pm in its entirety (I've only seen about 20 minutes of this costume drama starring
Julie Andrews
and
Max von Sydow
). There's also
Ingrid Bergman
as real-life missionary to China Gladys Aylward in
The Inn of the Sixth Happiness
(1958) at 12:45 am and hypocritical preacher
Walter Huston
falling for
Joan Crawford
's dubious charms in
Rain
(1932) at 3:30 am.
Set Your DVR for Thursday prime time and late night
TCM's March spotlight on journalism in the movies brings a great lineup of films noir on Thursday night, starting with writer/director
Billy Wilder
's caustic
Ace in the Hole
(1951) at 8 pm Thursday about a cynical journalist (a fearless
Kirk Douglas
) who exploits a tragedy for his own gain. Next, certifiable columnist
Burt Lancaster
(GIF above) rules over NYC's entertainment industry in
Sweet Smell of Success
(1957) at 10:15 pm.
In late night, reporters John Derek and Donna Reed dig up dirt on their editor (Broderick Crawford) in Scandal Sheet (1952) at midnight; columnist Richard Conte tries to clear Anne Baxter's name in The Blue Gardenia (1953) at 1:30 am; Employees at a newspaper try to track down the elusive "Lipstick Killer" in the gripping thriller While the City Sleeps (1956) at 3:15 am. The extraordinary cast includes Vincent Price, Dana Andrews, George Sanders and Ida Lupino.
Screen Teams: Irene Dunne and Cary Grant (Friday daytime)
Cary Grant, Irene Dunne, and Randolph Scott in My Favorite Wife (1940)
My Favorite Wife (1940) at 6:30 pm Friday, March 15: This delightful comedy of remarriage stars Irene Dunne as a shipwreck survivor who comes home to find her husband married to another woman (Gail Patrick). Grant's close friend Randolph Scott plays a hunky fellow castaway who reunites with Dunne. Part of a daytime lineup of films starring Grant and Scott.
Young Frankenstein (1974) at 8 pm March 15: Gene Wilder
and
Peter Boyle
put on the a show in writer/director
Mel Brooks
spoof of thirties horror movies.
Weekend Watch (Saturday daytime)
Anne Shirley as the title character in Anne of Green Gables (1934)
Anne of Green Gables (1934) at 6:30 am Saturday, March 16: Anne Shirley
plays the spunky Prince Edward Island orphan in this lovely adaptation of Lucy Maud Montgomery's novel.
O.P. Heggie
and
Helen Westley
are quite touching as Matthew and Marilla Cuthbert, the elderly brother and sister who adopt Anne.
Saturday Pick of the Day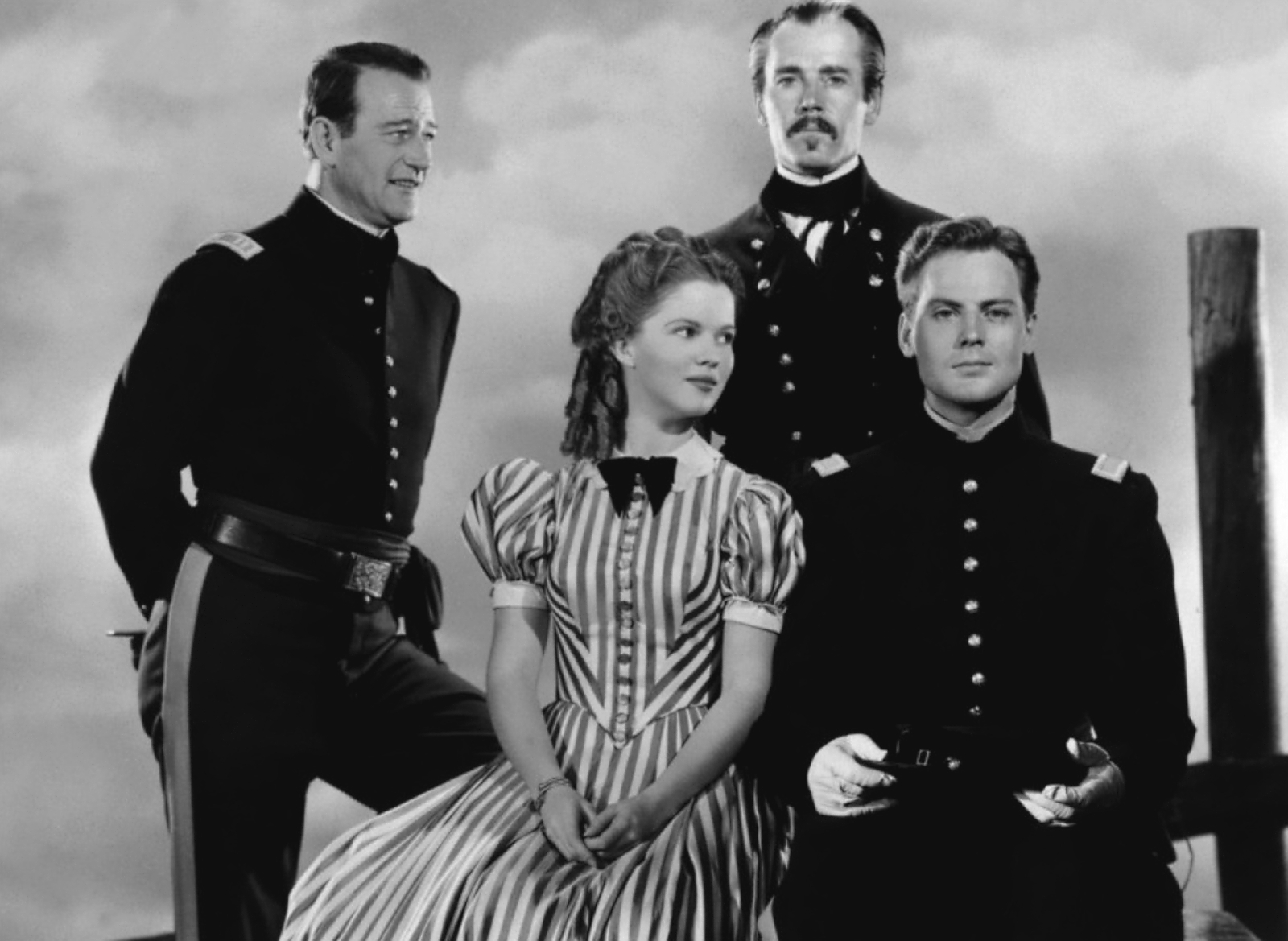 John Wayne, Henry Fonda, Shirley Temple, and John Agar in a publicity still for Fort Apache (1948)
Fort Apache (1948) at 10:15 pm Saturday, March 16:
My sentimental favorite among director
John Ford
's cavalry trilogy (the other two films are She Wore a Yellow Ribbon and Rio Grande) this film stars
Henry Fonda
as a martinet commander who clashes with fellow officer
John Wayne
.
Shirley Temple
is quite charming as Fonda's teenage daughter.
Noir Alley, March 16th edition
Ida Lupino and Humphrey Bogart in High Sierra (1941)
High Sierra (1941) at midnight Saturday night/Sunday morning and 10 am Sunday:
One of two 1941 noirs that made
Humphrey Bogart
an A-list star, this gangster drama is about an essentially decent ex-con who attempts a hotel robbery to raise cash for the surgery of a disabled girl (
Joan Leslie
).
Ida Lupino
is great as a moll who falls in love with Bogie. Also Bogart's dog Zero plays lovable mutt Pard in the film.
Sunday Pick of the Day
Maureen O'Hara and John Wayne in The Quiet Man (1952)
The Quiet Man (1952) at 8 pm Sunday March 17:
It just wouldn't be St. Patrick's Day without TCM airing director
John Ford
's Emerald Isle-set romance. Most people watch for
Maureen O'Hara
's fiery performance as Mary Kate Danaher, but the glorious Technicolor cinematography in and around the village of Cong and
Victor Young
's lovely score, which includes Irish folk tunes, are also highlights.
Alternative Sunday Pick
The Rising of the Moon (1957) at 10:30 pm Sunday, March 17: If you've already seen The Quiet Man 8,000 times (raises hand) then try this lesser-known Ford film set during the Irish War of Independence. Tyrone Power provides the narration.
Get link

Facebook

Twitter

Pinterest

Email

Other Apps