Get link

Facebook

Twitter

Pinterest

Email

Other Apps
TCM is celebrating its 25th anniversary this April with a blockbuster lineup of programming. First up, is a week-long tribute to old Hollywood icon Greta Garbo (photo above with Melvyn Douglas in Ninotchka), who was TCM's first ever star of the month. There's also birthday tributes to Debbie Reynolds on Monday and Spencer Tracy on Friday, plus the best of The Essentials on Saturday. Note: All times are ET and the highlighted text has links to full-length articles.
Here's a
link
to the complete schedule for April 1 through April 7.
Happy Heavenly Birthday, Debbie Reynolds (Monday daytime)
TCM is celebrating the April 1st birth date of the old Hollywood icon with a daytime lineup of her films. The best bet is Reynolds' performance as the spunky Titanic survivor in
The Unsinkable Molly Brown
(1964) at 11:30 am, but she's also wonderful opposite her Singin' in the Rain (1952) costar
Donald O'Connor
in the musical
I Love Melvin
(1953) at 10 am, with
Tony Randall
in the rom-com
The Mating Game
(1959) at 4 pm, and as the daughter of demanding mother-of-the-bride
Bette Davis
in
The Catered Affair
(1956) at 2 pm.
Garbo Night 1: Silents (Monday prime time and late night and Tuesday daytime)
Greta Garbo in a publicity still for The Temptress (1926)
The first night of TCM's
Greta Garbo
tribute showcases her silent films. Garbo was an unknown 19 year old from Stockholm when the Swedish melodrama
The Saga of Gosta Berling
(1924) at 6 am Tuesday made her an international star (MGM chief Louis B. Mayer reportedly roared "Get me that girl" while attending a screening of Gosta Berling).
Garbo arrived in Hollywood in 1925, although, at first, MGM executives weren't sure what to do with the Swedish import (her uneven teeth and frizzy hair caused consternation in the hair and makeup department). Through sheer luck, Garbo landed the part of a peasant turned opera star in The Torrent (1926) at 8 pm Monday, which was a huge hit. Garbo cemented her superstar status by playing man-eating vamps in The Temptress (1926) at 9:45 pm, The Mysterious Lady (1928) at 11:45 pm, and The Kiss (1929) at 1:30 am. MGM did allow her to mix it up as a free-spirited debutante in The Single Standard (1929) at 2:45 am and as a bored businessman's wife in Wild Orchids (1929) at 4:15 am.
Performance of the Week (Tuesday daytime)
Leslie Howard and Bette Davis in Of Human Bondage (1934)
Of Human Bondage (1934) at 11:45 am Tuesday, April 2: Bette Davis
made her name playing tubercular waitress Mildred Roger in this fascinating Somerset Maugham adaptation. Davis' fearless performance is still quite powerful, especially in the scene where a cruel Mildred berates Leslie Howard, who plays her upper-class admirer. Part of a daytime lineup of films about unrequited love.
Garbo Night 2: Pre-Code Films (Tuesday prime time and late night)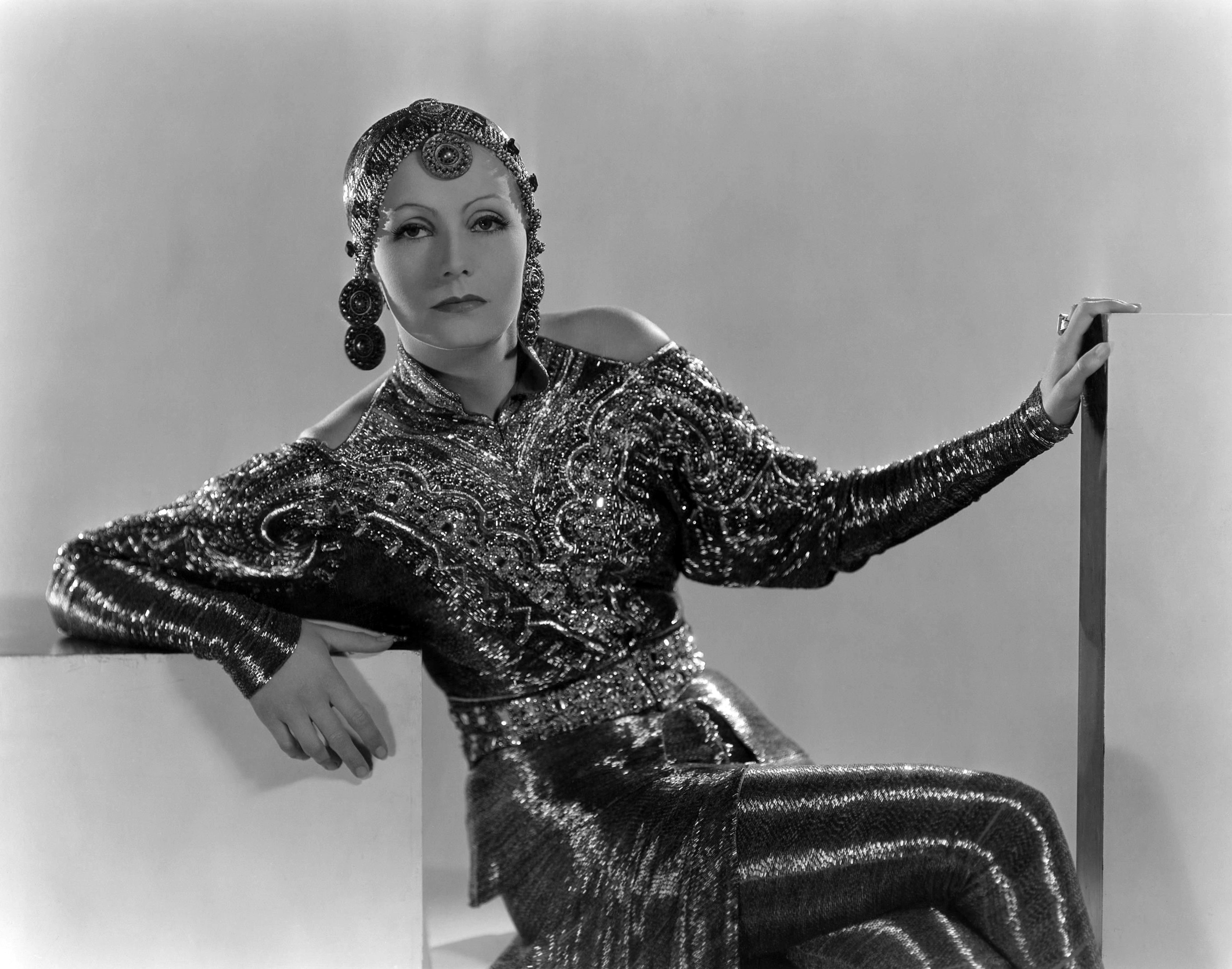 Greta Garbo in one of her Adrian-designed costumes for Mata Hari (1931)
Garbo's superstar status continued into the early talkies. She appeared in her fair share of potboilers like
Romance
(1930) at 8 pm Tuesday opposite
Lewis Stone
and
Gavin Gordon
and
The Painted Veil
(1934) at 2:45 am opposite
Herbert Marshall
and
George Brent
. Garbo also got the chance to vamp it up as the famous World War I spy in
Mata Hari
(1932) at 11:30 pm .During this time period, she also played one of her most famous parts: Disillusioned ballerina Grusinskaya in the all-star drama
Grand Hotel
(1932) at 9:30 pm .
The Divine Swede was cast against type as an innocent Michigan farm girl who runs away to join the circus in
Susan Lenox: Her Fall and Rise
(1931) at 1:15 am. Susan Lenox was Garbo's only screen appearance with her fellow MGM superstar
Clark Gable
.
Swashbuckler of the Week (Wednesday daytime)
Wallace Beery and Jackie Cooper in a publicity still for Treasure Island (1934)
Treasure Island (1934) at 6:15 pm Wednesday, April 3: Wallace Beery
and
Jackie Cooper
team up for this fun adaptation of Robert Louis Stevenson's adventure classic about a famous pirate (Beery) who befriends a young boy. MGM's lavish production values and great character actors like
Lionel Barrymore
and
Nigel Bruce
make this movie a family-film treat. Part of a daytime lineup of movies about mutiny.
Garbo Night 3: Costume Dramas (Wednesday prime time and late night)
Director George Cukor (standing behind camera) directs Greta Garbo and Robert Taylor in a scene from Camille (1936).
Garbo played three famous characters from literature during her career at MGM. She was American playwright Eugene O'Neill's tragic heroine in
Anna Christie
(1930) at 8 pm Wednesday (this was Garbo's first sound film), Russian author Leo Tolstoy's tragic heroine in
Anna Karenina
(1935) at 9:45 pm (she also played Anna in the silent film Love), and Alexandre Dumas' tragic heroine in
Camille
(1936) at 11:30 pm. You can read my thoughts on both Anna Christie and Camille
here
.
Screen Teams: Katharine Hepburn and Spencer Tracy (Thursday daytime)
Aldo Ray, Spencer Tracy, and Katharine Hepburn in Pat and Mike (1952)
Legendary onscreen and off-screen couple Katharine Hepburn and Spencer Tracy are at their witty best in two films scripted by their friends Ruth Gordon and Garson Kanin: Adam's Rib (1949) airing at 12:30 pm Thursday and Pat and Mike (1952) airing at 2:15 pm.
Garbo Night 4: Co-Starring John Gilbert (Thursday prime time and late night)
Greta Garbo and John Gilbert join the cast and crew of Love (1927) for a picnic.
Garbo and her leading man and rumored off-screen love interest John Gilbert made four films together. Their combustible chemistry practically burned down the screen in Flesh and the Devil (1926) at 8 pm Thursday and they continued their string of hits with Love (1927) at 10:15 pm, which was a modern version of Anna Karenina (MGM didn't want to damage the box-office appeal of their top team with Tolstoy's tragic finale, so they filmed an alternate happy ending and gave theater owners a choice between the two versions).
Garbo and Gilbert also appeared together in the silent melodrama A Woman of Affairs (1928) at midnight and the biopic Queen Christina (1934) at 1:45 am.
Happy Heavenly Birthday, Spencer Tracy (Friday daytime)
TCM is celebrating Spence's April 5th birth date with a lineup of his films that includes his Academy Award-winning role in Boys Town (1938) at 11 am Friday, buddy picture Boom Town (1940) at 2:45 pm with frequent costar Clark Gable, and World War II action-adventure Thirty Seconds Over Tokyo (1944) at 5 pm.
Garbo Night 5: Later Roles (Friday prime time and late night)
TCM's tribute to Garbo winds down on Friday with her final three films. First up is Conquest (1937) at 8 pm in which Garbo plays a Polish countess who uses her beauty to charm Napoleon Bonaparte (Charles Boyer) and save her homeland.
Next, director
Ernst Lubitsch
and co-screenwriter
Billy Wilder
helped Garbo remake her dour image in the delightful rom-com
Ninotchka
(1939) at 10 pm in which she plays a serious Soviet bureaucrat who learns to love (and laugh!) with the help of
Melvyn Douglas
. Garbo's last film was the so-bad-it's-fascinating screwball
Two-Faced Woman
(1941) at midnight, in which she plays her own twin sister in order to win back her straying husband (Douglas once again).
Saturday Pick of the Day
Robert Mitchum as Preacher Harry Powell in The Night of the Hunter (1955)
The Night of the Hunter (1955) at 10:15 pm Saturday, April 6:
Director
Charles Laughton
's coming-of-age noir about two children (
Billy Chapin
and
Sally Jane Bruce
) who are hunted by an ex-con "preacher" (
Robert Mitchum
) was an overlooked film that has seen a revival of interest thanks to frequent airing on TCM. It's on Saturday night as part of the best of The Essentials programming that also includes East of Eden (1955) at 8 pm.
Noir Alley, April 6th edition
Evelyn Keyes and John Payne in 99 River Street (1953)
99 River Street (1953) at midnight Saturday night/Sunday morning and 10 am Sunday: Kansas City Confidential (1952) director Phil Karlson and star John Payne reunite for this gritty thriller about a cab driver who has to solve the murder of his cheating wife (Evelyn Keyes) to avoid being implicated in the crime.
Sunday Pick of the Day
Leslie Howard and Valerie Taylor in Berkeley Square (1933)
Berkeley Square (1933) at 6 am Sunday, April 7:
This intriguing fantasy film stars
Leslie Howard
as a modern man who is transported to 18th century London. A must-watch for Howard fans, this is also an intriguing choice for those who love Jane Austen novels and period dramas like Poldark.
Weekend Watch (Sunday afternoon)
A Day at the Races (1937) at noon Sunday, April 7:
If you're in need of a laugh this weekend, tune into this riotous
Marx Brothers
movie about a quack veterinarian (
Groucho Marx
) who becomes the doctor at an high-end sanitarium. There's lot of prime Groucho-
Margaret Dumont
action in this one, including the famous operating room scene (photo above).
Get link

Facebook

Twitter

Pinterest

Email

Other Apps