Get link

Facebook

Twitter

Pinterest

Email

Other Apps
This week on TCM you can spend Halloween night with horror icon Vincent Price (the photo above shows him in House of Wax (1953) with costar Phyllis Kirk), learn about pioneering women filmmakers on Thursday and watch one of John Wayne's great performances on Saturday. Note all times are ET and the highlighted text has links to full-length articles.
Here's a
link
to the complete schedule for Oct. 29-Nov. 4.
Three from Bette Davis (Monday, Oct. 29, daytime)
Bette Davis and Joan Crawford in a publicity still for Whatever Happened to Baby Jane? (1962)
TCM kicks off Halloween week with a trio of Grand Dame Guignol horror films starring the legendary
Bette Davis
. She is joined by fellow old Hollywood icon
Joan Crawford
for
Whatever Happened to Baby Jane?
(1962) at 1:15 pm Monday and by
Olivia de Havilland
,
Joseph Cotten
, and
Agnes Moorehead
in
Hush. . .Hush, Sweet Charlotte
(1964) at 3:45 pm. Finally, Davis is chilling as the "devoted" caretaker of a young boy (
William Dix
) in the Hammer horror movie
The Nanny
(1965) at 6:15 pm.
This Week's Read (Monday, Oct. 29 prime time and Tuesday, Oct. 30 daytime)
Fredric March in monster makeup for Dr. Jekyll and Mr. Hyde (1932).
TCM's Monday lineup of mad scientist movies includes two versions of Robert Louis Stevenson's oft-filmed novella
Dr. Jekyll and Mr. Hyde
. The pre-code version starring
Fredric March
airs at 9:15 pm, while
John Barrymore
's legendary performance in the 1920 silent is airing at 6 am Tuesday. You can read about these two movies and other Jekyll/Hyde flicks in my
Biography of a Movie Monster
article.
More Madness: Charles Laughton hams it up as the infamous Dr. Moreau in the pre-code classic The Island of Lost Souls (1932) at 8 pm, while Peter Lorre plays a bald and beautiful hand-transplant expert in Mad Love (1935) at 11 pm. Poor David Hedison finds out the dangers of experimenting on himself in the bonkers sci-fi flick The Fly (1958) at 12:15 am (FYI: this film repeats at 1:45 pm Saturday, if you're looking for a weekend treat).
Photo of the Week (Tuesday, Oct. 30, daytime)
The large head of
King Kong
is hauled across the RKO Pictures backlot in 1933. TCM is airing the greatest ape film of them all at 4:15 pm Tuesday as part of a daytime lineup of thirties science fiction films.
B Movie Mania (Tuesday, Oct. 30, prime time)
Huntz Hall, William Benedict, and David Gorcey in Ghost Chasers (1951).
TCM is airing a Tuesday night of horror comedies from the Bowery Boys. Leo Gorcey, Huntz Hall and a rotating team of regulars made a series of low-budget comedies for Monogram Pictures in the 1940s and 1950s that often featured scary themes tailor made for their kiddie audience (FYI: Gorcey was replaced by Stanley Clements in the final seven Bowery Boys films). These movies were a staple of local late-night TV spoofs when I was growing up, but they are actually funny in their own right, especially Gorcey and Hall, who make a fine comedy duo. The lineup starts at 8 pm with Ghost Chasers (1951), which finds the boys on the trail of a fake medium (Lela Bliss).
Horror Movie of the Week (Wednesday, Oct. 31, daytime)
Simone Simon in Cat People (1942).
Cat People (1942) at 9 am Wednesday:
This first horror film from producer
Val Lewton
and director
Jacques Tourneur
is an atmospheric, noir-influenced chiller about a young woman (
Simone Simon
) who believes she is descended from a race of feline shape shifters. This film creates two of the biggest scares in old Hollywood history using little more than sound effects and shadowy cinematography (courtesy of the great
Nicholas Musuraca)
.
Spend Halloween with Vincent Price (Wednesday, Oct. 31, prime time and late night)
After you've passed out Halloween candy, settle down on the couch with your leftover treats for a night of great movies from horror icon Vincent Price. The night starts out with Price as a mad "sculptor" who is the proprietor of a museum with amazingly lifelike statues in the 3-D extravaganza House of Wax (1953) at 8 pm followed by two of the seven Edgar Allan Poe films Price made with producer/director Roger Corman: Pit and the Pendulum (1961) at 9:45 pm and The Masque of the Red Death (1964) at 11:15 pm. Finally, Price plays a manipulative millionaire in the drive-in classic House on Haunted Hill (1958) at 1 am.
Pioneering Women Filmmakers (Thursday, Nov. 1, prime time)
Alice Guy-Blache
Women filmmakers are an important part of movie history, but their significant artistic and technical contributions have largely been ignored in favor of their male counterparts. TCM is correcting this error by shining the spotlight on these women with a Thursday night of their films.
Alice Guy-Blache at 8 pm: Regarded by many film scholars as the first female film director, Paris-born Alice Guy-Blache worked her way up from stenographer to director at Gaumont Films. Eventually, she and her husband, Herbert Blache, moved to the US, where they founded their own independent movie studio in Fort Lee, N.J. Guy-Blache wrote, directed, and produced hundreds of films, many with a strong female characters, such as the martial comedy A House Divided (1913), which is a forerunner of classic comedies like The Awful Truth and The Philadelphia Story. Another Solax film is Falling Leaves (1912), which showcases Guy Blache's attention to detail and penchant for fairy tale-like stories. Guy-Blache also worked as a director for hire for other studios, where she made films like the melodrama The Ocean Waif (1916).
Lois Weber at 9:15 pm: Weber was the most successful female screenwriter and director in aughties Hollywood, where she made social problem films like Where Are My Children? (1916), which deals with the then hot topics of birth control and abortion (the more things change, the more they stay the same). Weber also made popular fare such as the thriller Suspense (1913), which features early examples of both a car chase and a split screen.
Mabel Normand at 10:45 pm: Normand was beloved by silent film fans for her knockabout comedies, but she was also a powerful presence behind the screen, writing and directing many of her own films, including the delightful Mabel's Blunder (1914). Normand was also an early champion of Charlie Chaplin, showcasing his unique talents in Caught in a Cabaret (1914), which she wrote and directed.
Set Your DVR for Flashback Friday (Nov. 2, daytime)
Fred MacMurray and Barbara Stanwyck in Double Indemnity (1944).
TCM's Friday lineup of films that have a flashback structure features some of the best movies ever made. First up, four people relive the events of a murder in medieval Japan in director
Akira Kurosawa
's masterpiece
Rashomon
(1950) at 6:45 am followed by a housekeeper (
Flora Robson
) recounting the doomed love affair of Heathcliff (
Laurence Olivier
) and Cathy Earnshaw (
Merle Oberon
) in
Wuthering Heights
(1939) at 8:15 am. The mid-day lineup includes the
Alfred Hitchcock
thriller
Stage Fright
(1950) at 10:15 am, noir
Double Indemnity
(1944) at 12:15 pm, and romance
Brief Encounter
(1945) at 2:15 pm. Finally, there's Orson Welles masterpiece
Citizen Kane
(1941) at 4 pm, which is told almost entirely in flashbacks, and
The Locket
(1946) at 6:15 pm, which is notable for its flashback within a flashback structure.
Performance of the Week (Saturday, Nov. 3, prime time)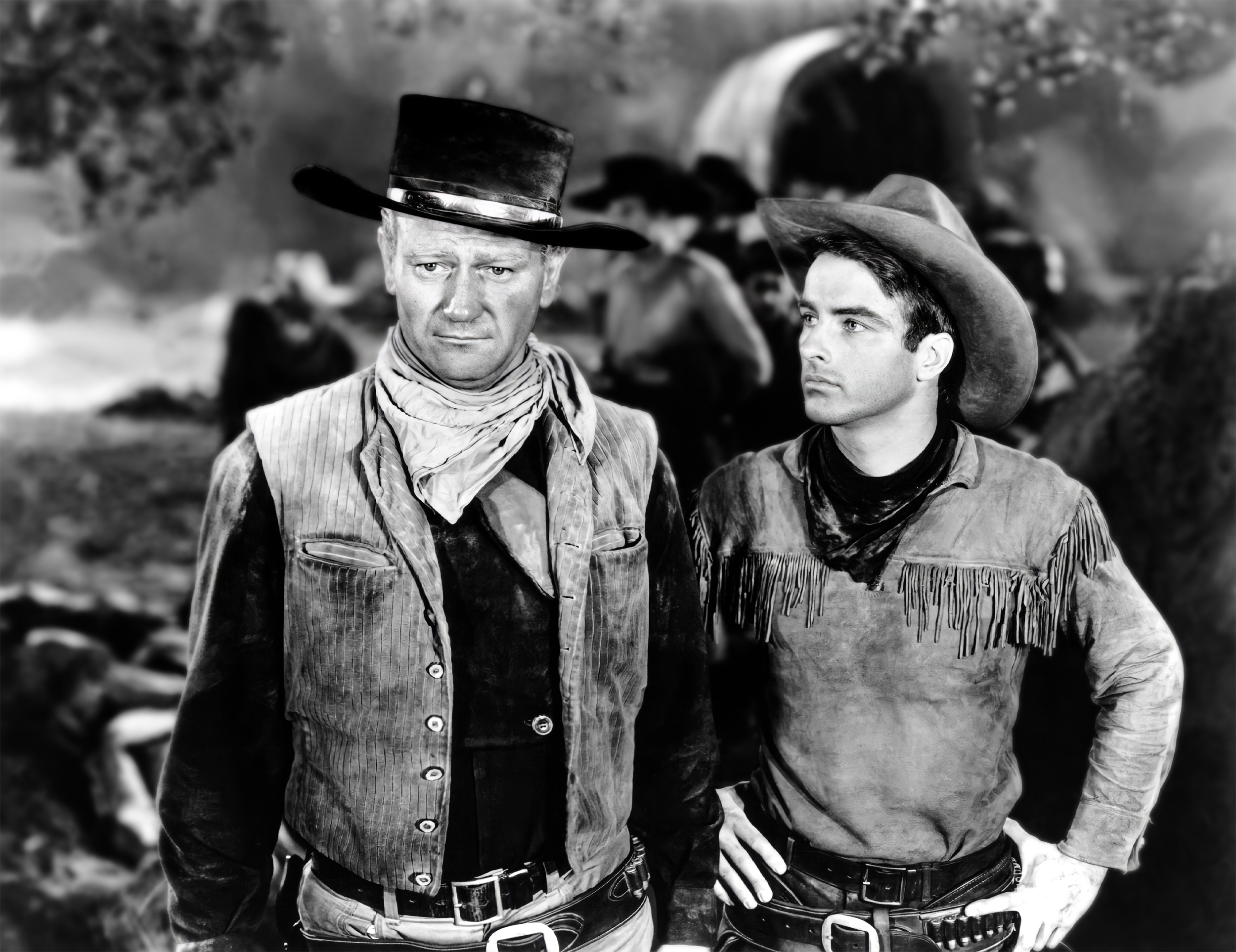 John Wayne as Thomas Dunson in Red River (1948).
Red River (1948) at 8 pm Saturday:
Director
Howard Hawks
' Western about male bonding and dysfunctional family dynamics gave star
John Wayne
the chance to prove his considerable acting chops. His brooding, obsessive portrayal of cattle baron Thomas Dunson not only led the way to his later performances in films like The Searchers (1956) and The Man Who Shot Liberty Valance (1962), but it also set the template for the portrayal of masculinity in later films.
Noir Alley, Nov. 3 edition
Arthur Franz in The Sniper (1952)
The Sniper (1952) at 12:15 am Saturday night/Sunday morning and 10 am Sunday:
This chilling thriller about a disturbed young man (
Arthur Franz
) who targets women during a murderous spree marked blacklisted director
Edward Dmytryk
's return to Hollywood. Ahead of its time, The Sniper is an important forerunner of both Dirty Harry (1971) and Taxi Driver (1976).
Screwball of the Week (Sunday, Nov. 4, daytime)
Jean Arthur and Joel McCrea in The More the Merrier (1943).
The More the Merrier (1943) at 11:45 am Sunday:
Why not skip football and settle down on the couch for this delightful rom-com classic about the housing shortage in wartime Washington D.C. Leads
Jean Arthur
and
Joel McCrea
have smoking hot chemistry, and screwball favorite
Charles Coburn
is delightful in an Academy Award-winning performance.
Discovery of the Week (Sunday, Nov. 4, prime time)
Charles Boyer and Rita Hayworth in Tales of Manhattan (1942).
Tales of Manhattan (1942) at 8 pm Sunday: Anthology films were popular in forties and fifties Hollywood, including movies about a particular possession that is passed between different owners. The best-known of these types of films is the Anthony Mann-James Stewart Western Winchester '73 (1950), but this all-star film about the effects of a dinner jacket on several owners is also worth watching .
More anthologies: The Yellow Rolls Royce (1964) at 10:15 pm, which is about three owners (Rex Harrison, George C. Scott, and Ingrid Bergman) of a classic car, is both a splendid anthology film and a great travelogue.
Silent Sunday Nights, Nov. 4 edition
The Wildcat (1921) at 12:30 am Sunday night/Monday morning: This farce about a playboy soldier (Paul Heidemann) and a beautiful bandit (Pola Negri) who meet cute and embark on a whirlwind romance was the last German film made by Negri and director Ernst Lubitsch before they emigrated to Hollywood.
Foreign Film of the Week (Sunday, Nov. 4, late night)
Sergei Eisenstein directing the cast of Alexander Nevsky (1938)
Alexander Nevsky (1938) at 2 am Sunday night/Monday morning:
One of the great masterpieces of Russian cinema, this film about a medieval prince (
Nikolai Cherkasov)
who stops a German invasion of his homeland was a timely morale booster in its day. It remains compelling entertainment today featuring director
Sergei Eisenstein
's visually stunning battle sequences and a magnificent score by
Sergei Prokofiev.
Get link

Facebook

Twitter

Pinterest

Email

Other Apps