Get link

Facebook

Twitter

Pinterest

Email

Other Apps
This article is part of The Fourth Wonderful Ingrid Bermgan Blogathon hosted by The Wonderful World of Cinema.
Ingrid Bergman often grew exasperated with her casting as saintly characters, but she returned again and again to the role of Joan of Arc. The Swedish actor played the French saint in two stage productions and two movies that defined her legendary career.
Bergman was born Aug. 29, 1915, in Stockholm and her childhood coincided with a resurgence of interest in the extraordinary life of the 15th century woman. Joan was born in 1412 in the village of Domremy in what is today Northeastern France. She grew up during a territorial and dynastic conflict between the English and French called the Hundred Years War, and Joan and her family evacuated Domremy at least once because of marauding armies.
At age 16, Joan left her hometown and went to meet King Charles VII* of France with a message she said she received from God:** Joan was to don male attire and lead the French army in battle against the invading English.*** For a period of time Joan was spectacularly successful, but she was captured by a group of pro-English French nobles in 1430 who turned her over to English authorities. After a lengthy trial, Joan was condemned as a heretic and a witch and burned at the stake on May 30, 1431, in an agonizingly brutal execution that was horrific even by the bloody standards of the time.
Shortly after her death, Joan's reputation began a steady rehabilitation. The French regarded her as an unofficial national symbol for centuries, but her fame didn't really take off until the 20th century when the young maid became one of the first true stars of the mass media age. She was the subject of films and plays, literary lions like Mark Twain and George Bernard Shaw wrote about her, and World War I soldiers marched off to the trenches courtesy of the toe-tapping tune, "Joan of Arc, They Are Calling You" (give it a listen
here
). Like any real celebrity, Joan had her share of product endorsements (A quick Google search found Joan of Arc brie cheese and Joan of Arc beans, which are touted as "the heroic bean!"). Joan historical comeback culminated in her 1920 canonization as a Catholic saint in a lavish ceremony in St. Peter's Basilica that made international news.
Bergman's childhood coincided with Joan's resurgence, and, although she was never a religious person, the Swedish actor always felt a strong connection with her French counterpart. Both were quiet young women from average families who felt they had an extraordinary gift that they must share with the world; as Bergman once said, "I was shyest human ever invented, but I had a lion inside me that wouldn't shut up."
A color portrait of Ingrid Bergman as Joan of Arc.
Bergman finally got the chance to play Joan in the 1946 play Joan of Lorraine⧪ by Maxwell Anderson. Bergman received rave reviews and won a Tony Award for her efforts. In 1948, she recreated her stage success on film in an independent movie made by a production company formed by Bergman, director Victor Fleming, and producer Walter Wanger.⧪⧪ Despite the fact that the film's distributor, RKO Pictures, chopped out a crucial 45 minutes, the movie still made a healthy profit at the box office, especially overseas, and received two Academy Awards (for best color costume design and best color cinematography) and five nominations, including one for Bergman as best actress.
Viewed today, Joan of Arc is a bit of a bloated historical epic, but, speaking as a person who loves bloated historical epics (I never met a 20-episode Masterpiece Theatre run I turned down), I thoroughly enjoyed it. The production values are first rate, especially the lavish recreation of Charles VII's coronation. and, despite some wooden acting, there are fine performances from Ward Bond as Joan's crusty commander and Jose Ferrer, who captures Charles VII's neurotic and changeable nature in his first movie performance.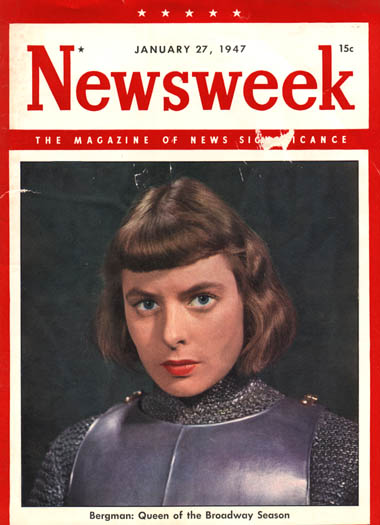 The real reason to see this film is Bergman, who, as she often did throughout her career, transcends the material with a performance of great passion and power. At age 33, Bergman was slightly too old to play a 16 year old, but she is still quite compelling in a role that earns Bergman her social media nickname of St. Ingrid. The first half of the film features St. Ingrid in excelsis as Joan at first reluctantly, but then joyfully obeys her divine mandate to lead the French army into battle. The second half, which features several beautiful, lingering close-ups of Bergman during Joan's trial and execution, is best described as the passion of St. Ingrid.
Bergman returned to the role of Joan in 1953 for theatrical performances of Swiss composer Arthur Honegger's oratorio Jeanne d'Arc au bucher (Joan of Arc at the Stake) that were directed by Bergman's then-husband Roberto Rossellini. Two of these performances were later edited into a 1954 Italian film titled Giovanna d'Arco al rogo. This movie is rarely shown today, and it's a bit of an oddity that takes a surreal, but ultimately moving look at Joan's life and death. You can listen to a recording of the production
here
or view a
clip
of Marion Cotillard's 2015 performance as Joan with the New York Philharmonic to get a flavor of the production, which included both spoken dialogue and music.
Bergman never returned to the role of Joan, but she was forever associated with the part, especially in France where she was often greeted with "Welcome home, Joan of Arc."
I'll leave you with this clip depicting Joan's imprisonment that features one of the great closeups in old Hollywood history.
Joan of Arc and Giovanna d'Arco al rogo are available on DVD.
Footnotes:
These footnotes are designed to clarify some confusing historical points in Joan of Arc (1948). If you want more in-depth information about Joan's life and legend there are several fine biographies. Joan: The Mysterious Life of the Heretic Who Became a Saint by Donald Spoto (who also wrote an excellent biography of Bergman) is a good general overview. The Virgin Warrior: The Life and Death of Joan of Arc by Larissa Juliet Taylor takes a deep dive into original documents about Joan while Joan of Arc: A History by Helen Castor puts Joan's life into the context of the larger events of the Hundred Years War.
* Charles is frequently called "the dauphin" in the 1948 film, which is the title of the heir to the French throne.
** The 1948 film frequently refers to Joan being guided by "voices," which are identified as various Catholic saints. In truth, Joan's own words about her voices are complex and sometimes contradictory; however she most frequently identified the voice as "my Lord" meaning Jesus.
*** In the hyper-religious 15th century, Joan's divine message didn't seem quite as unusual as it probably does to modern audiences, although Joan's family did find her behavior alarming, and Charles VII was cautious in his dealings with her.
⧪
People could be known by a few different names in the 15th century. Joan was sometimes called Joan of Lorraine after her native region.
⧪⧪
The film abandons the stage version's play-within-a-play structure in favor of a straight retelling of Joan's life and death.
Get link

Facebook

Twitter

Pinterest

Email

Other Apps